IRS Audits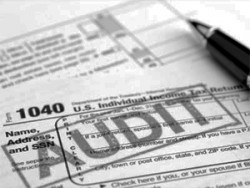 Have you received notice of an upcoming IRS audit? Don't panic. While an audit by the IRS can be stressful and frustrating, it doesn't have to overwhelm you completely. With an audit defense specialist from Taxation Solutions, Inc. by your side throughout the proceedings, you can look forward to the best possible outcome. We provide IRS audit help to individual taxpayers and business entities throughout Boston and the surrounding region, taking the pressure off your shoulders to defend yourself and your finances to the tax authorities. Call or e-mail us today to discuss your IRS audit representation needs, and to get a free cost estimate for our expert services! 
Depending on your specific situation, our IRS audit help might include: 
Determining possible reasons for your audit by the IRS
Gathering and filing paperwork to support your claims
Preparing and delivering your audit defense
Negotiating tax settlements, should the audit not go your way
Advising you on avoiding an IRS tax audit in the future
A major advantage of having one of our licensed and insured IRS audit specialists represent you is that we're skilled at keeping the focus of the audit as narrow and on topic as possible. We'll also be able to present your information in an objective and professional way without being nervous or defensive. Many taxpayers who attend their own tax audit are both, which can make the auditor suspicious and result in more questions. In such a tense environment, the auditor may be a lot less cooperative about resolving problems. IRS audit representation from Taxation Solutions, Inc. is designed to minimize these issues. The audit will go more smoothly and you'll have your best chance at a favorable result. 
Experienced IRS Audit Defense
The tax attorneys and enrolled agents at Taxation Solutions, Inc. have a combined 40 years of experience assisting taxpayers through IRS auditing proceedings. We're fully trained to represent you and negotiate directly with the IRS on your behalf, and we'll call on the skills we've learned over the years to increase the likelihood of a positive outcome. Our other qualifications include affiliations with the American Society of Tax Problem Solvers, the National Association of Tax Professionals, and the National Association of Enrolled Agents. Whether you need help getting IRS audit penalties lifted or you want to learn how to avoid an IRS tax audit on future returns, we're the company to call in Boston. 
Get in touch with Taxation Solutions, Inc. today to schedule your initial appointment with us! We offer emergency consultations, if your audit deadline is approaching fast. Regardless of the turnaround time, you can count on our pros for thorough, detail-oriented, and results-driven work. 
tax audit
irs audit
offer in compromise