IRS Back Taxes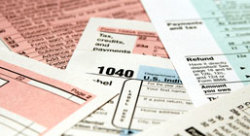 Are you tired of living or working with back taxes hanging over your head? Get the professional tax help you need by calling Taxation Solutions, Inc. Our team of enrolled agents and tax attorneys can help you deal with everything from late fees and interest charges to wage garnishment and liens. We're Boston's best choice for back tax filing and related services. Whether you're self-employed, a small business owner, or a salaried professional, contact us today to set up a consultation with one of our knowledgeable tax resolution specialists. We're happy to offer you a free cost estimate before beginning work! 
Our tax assistance includes: 
Gathering paperwork and filing late tax returns
Negotiating settlements to help you pay your debt
Petitioning to have penalties and fees lifted from your account
Advising you on avoiding back tax problems going forward
Whether your unpaid taxes are the result of an inability to pay them or you intentionally missed a deadline and are now getting hit with the fallout, Taxation Solutions, Inc. can help. Our pros can file a single tax return late or guide you through resolving back taxes that are up to 10 years past due. The key to obtaining the most favorable outcome possible is to secure professional tax assistance. The IRS is not going to make it easy to get an offer in compromise or other tax settlement. You'll need our licensed and insured tax help specialists on hand to determine your eligibility and negotiate the best terms for your situation. In Boston and beyond, Taxation Solutions, Inc. is the company to trust for help with back taxes and more. 
Emergency Back Taxes Help
The more IRS deadlines you miss, the worse your tax problems will become, due to the penalties and fees that accrue on your account. Don't let another important deadline pass you by. Taxation Solutions, Inc. is pleased to offer emergency back taxes help to individual and business taxpayers in Boston. We'll tackle your delinquent taxes in a timely fashion, aiming to meet the tax authorities' demands while also improving your situation. We have 40 years of experience among our team, and we'll put everything we've learned in that time to work on your case. 
Find out more about how our tax experts can help you resolve your problems with IRS back taxes by calling Taxation Solutions, Inc. today! We're affiliated with the National Association of Tax Professionals, the American Society of Tax Problem Solvers, and the National Association of Enrolled Agents, so you can breathe easy knowing your delinquent taxes are in capable hands. 
Back Taxes
Filing Back Taxes
IRS Representation
Back Tax Return
Owe Back Taxes