Tax Attorneys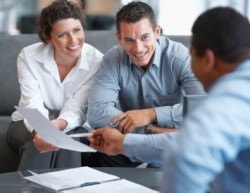 Have your tax problems grown so serious that hiring a tax attorney is your only move? Call Taxation Solutions, Inc. to get connected with a tax lawyer who is equipped with the knowledge and skill to improve your situation. We're your best source for the advice, representation, and guidance you need to get tax relief. We have a reputation in and around Boston for caring about our clients' satisfaction. Our tax lawyers are available to assist local businesses as well as individual taxpayers with a wide array of issues, so you don't have to worry that your case is beyond fixing. Ready to learn more about Taxation Solutions, Inc.? Call or e-mail us today to get started.
One of the things that sets us apart among tax help firms in Boston is the fact that we're staffed with a variety of tax professionals. Our team includes enrolled agents and IRS attorneys who can represent you in dealings with the IRS as well as in federal tax court. When you contact us to discuss your situation, our first step will be to determine whether you truly need an IRS attorney. Some tax problems can be solved easily—and at less expense to you—by an enrolled agent, instead. If you do require the services of an IRS tax attorney, we'll connect you with the right person for the job. 
Come to Taxation Solutions, Inc. for assistance with: 
Back taxes
Tax settlements
Tax penalties
IRS audits
Business tax problems
Payroll tax issues
Federal tax court proceedings
And much more
Tax laws are extremely complex, and our tax lawyers have the knowledge and negotiating skill you want on your side when the going gets tough. Having passed the bar examination, a tax attorney has the in-depth understanding of tax codes, legal precedents, and defense strategies to help you overcome all sorts of tax problems. At Taxation Solutions, Inc., we're committed to getting our clients the best possible outcome to their tax troubles. Our IRS attorneys will provide you with the strategies you need to regain control of your finances and your life. 
Licensed & Insured IRS Tax Lawyers
When you're looking for a capable tax lawyer, don't look any further than Taxation Solutions, Inc. We're proud to be appropriately licensed and insured to solve tax problems. We have more than 40 years of experience among our staff, and we'll put everything we've learned in that time to work on your case. Our affiliation with the National Association of Tax Professionals, the American Society of Tax Problem Solvers, and the National Association of Enrolled Agents helps us stay up to date and informed about relevant tax matters. We'll put you in touch with an IRS attorney who can make a real difference for you. 
If you have serious tax issues—or want to prevent minor problems from becoming major ones—take charge of your situation by calling Taxation Solutions, Inc. Whether you're dealing with delinquent taxes, bank levies, or a federal tax court summons, our team of IRS tax lawyers and other tax resolution specialists can provide you with the representation you need. Contact us today to schedule your initial consultation, and to get a free cost estimate for our services! 
tax attorney
tax attorney in
tax lawyers
attorney taxes
tax law attorney