Tax Relief for Truckers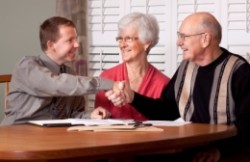 Are you a truck driver? You don't have to be told how difficult tax season can be. Whether you end each year with multiple 1099s to file, you get paid in several different states, or you simply spend most of your time away from home and aren't able to stay on top of your mail and paperwork, Taxation Solutions, Inc. can help. We're your Boston-based source for IRS tax relief. We're a full-service tax relief company offering help for all sorts of tough tax problems. Need help filing back taxes or getting through a tax audit in one piece? We're the team to trust. Call or e-mail Taxation Solutions, Inc. today to learn more, and to discuss the tax relief services you require!
When it comes to on-the-job experience, Taxation Solutions, Inc. can't be beat. Our staff of enrolled agents and other tax professionals has more than 40 combined years in the industry. We'll put that experience to work to help you secure tax debt relief. Contact us regarding help with:
Lifting tax penalties
Securing tax settlements
Filing back taxes
Filing returns in multiple states
Correcting misfiled returns
Getting through IRS audits
And more!
Long hours behind the wheel are a reality of life as a trucker. Don't spend those hours worrying endlessly about your tax problems. Get in touch with Taxation Solutions, Inc. and keep your focus where it belongs: on the road. We're your answer for tax relief help that makes a real difference in your life.
Licensed & Insured Tax Relief Company
Taxation Solutions, Inc. is proud to be appropriately licensed and insured to provide just about every form of tax debt relief you might be seeking. But that's not all that helps us give our clients some of the best tax relief services available in and around Boston. We're also affiliated with the National Association of Tax Professionals, the American Society of Tax Problem Solvers, and the National Association of Enrolled Agents. Whether you need help stopping wage garnishment or correcting an error on a previous tax return, you can trust us for superior IRS tax relief.
Ready to book your initial consultation? We're available for appointments scheduled far in advance, if you know a particular time you'll be in the Boston area, but we also offer emergency services if you've just come home to a looming IRS deadline. We're one of the most reliable tax relief companies around, committed to giving our customers peace of mind and lasting results. We're standing by to take your call!   
tax relief
truck driver tax help